Congratulations to eSUN on the successful hosting of the "Two Meetings" — the European Agent Conference and the Makers Gala in Frankfurt!
Post time: 2023-11-10
On November 9th, coinciding with the formnext in Germany, eSUN's "Two Meetings" — the European Agent Conference and the Makers Gala were successfully held in Frankfurt.
Innovate · Grow · Care
"eSUN makes, sells worldwide!" eSUN's achievements today are inseparable from the trust and support of numerous agents worldwide. First and foremost, sincere thanks to all our partners!
The theme of this agent conference is "Innovate · Grow · Care". The 3D printing industry is rapidly evolving, and 3D printing technology is profoundly influencing human production and lifestyle. For us, this also means vast development opportunities and unlimited growth potential.
Focusing on industry development trends, eSUN shared with attending agents the direction of product innovation and application development. In this new age, eSUN will prioritize the development of high speed series, further enrich engineering materials and general aesthetic materials, enhance product capabilities, and provide users with more high-quality choices.
During this conference, eSUN also extensively listened to everyone's feedback and discussed feasible solutions to specific issues. In the future, eSUN will continue to provide efficient, professional, and powerful support for agents in various aspects, including new product promotion, global product supply acceleration, and local marketing development.
At new starting point, seizing new opportunities, we will, with high-quality products and services as the foundation, "make new friends, cherish old friends, always good friends". We look forward to working together with all our agents, advancing towards the goals of "expanding the market" and "strengthening the brand", extensive consultation, joint contribution, shared benefits, and creating a new chapter of cooperation and mutual success.
3D printed sunglasses using eSUN PLA+ filament
At the end of the conference, everyone put on the 3D printed sunglasses prominently showcased by eSUN at the exhibition. The eSUN team was wearing PLA custom T-shirts, and the photo captured the personalized ending moment of the 3D printing community!
eSUN Makers Gala
In addition to the Agent Conference, eSUN also invited numerous 3D printing makers and hosted the first eSUN Makers Gala. eSUN's sincere friendliness and the affection of fans and friends towards eSUN created a delightful "two way rush"!
At the conference, everyone shared their stories with 3D printing and the eSUN. As the organizer, eSUN addressed users' questions regarding products and the brand.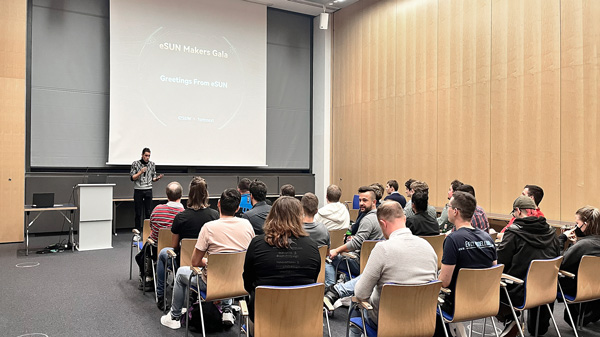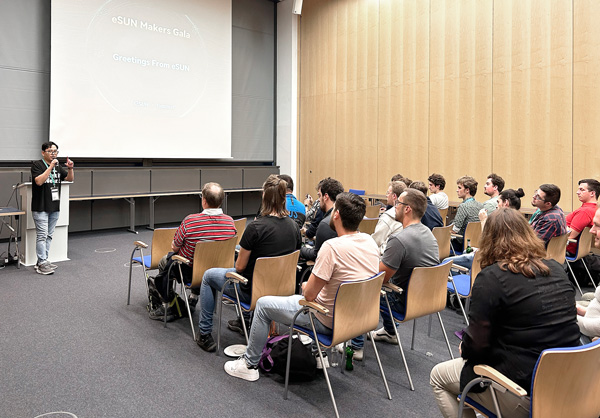 In addition to expressing gratitude for everyone's love, rich gifts were presented to the fans on site, including 3D printing filaments, 3D printing filament dry box, and the grand prize—a generously sponsored A1 Mini Combo printer by Bambu Lab! In the midst of cheerful games and German beer, the atmosphere reached its climax during the raffle.
↑ Lucky winner of the A1 Mini Combo 3D printer! ↑
Who's envious?
Every bit of love and support is precious, and we appreciate everyone who is willing to explore the new world of 3D printing with eSUN. In the future, eSUN will stay grounded, deliver excellent products and services, and continue to provide strong support for everyone's creations with high-quality 3D printing materials!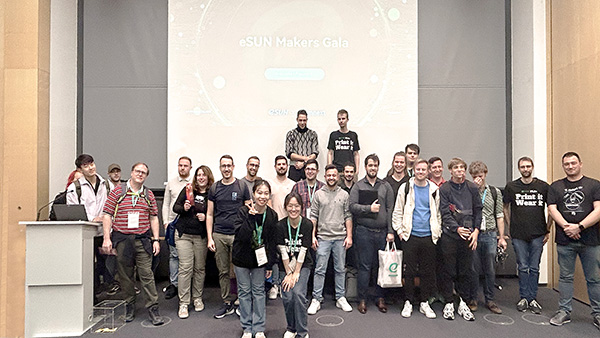 ---
Previous:
Formnext in Germany | Gathering of Industry Leaders. eSUN Cordially Invites Everyone to Meet in Frankfurt!