So Many Surprises! Remembering eSUN's Joyful Journey at formnext with Friends!
Post time: 2023-11-11
The 2023 formnext in Germany is coming to an end. Undoubtedly, this exhibition is expected to set new records in both exhibitor scale and audience numbers.
The eSUN booth at this exhibition has presented many surprises, with numerous popular check-in points. The rich variety of materials, model works, and professional applications have attracted many visitors for inquiries and experiences!
Popular Points 1: High Speed Printing Zone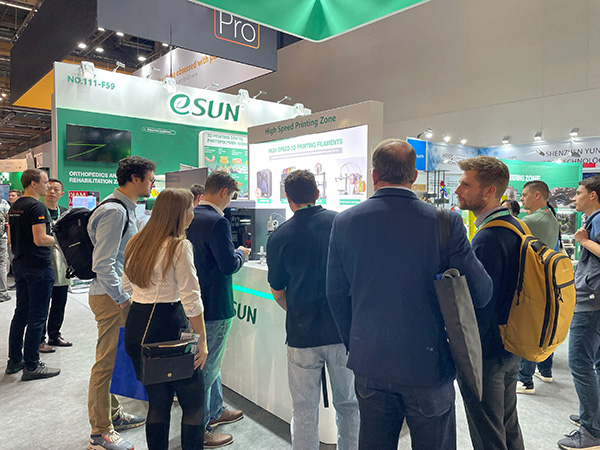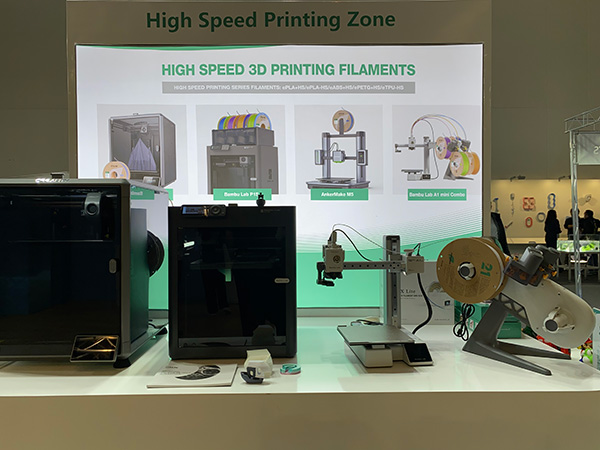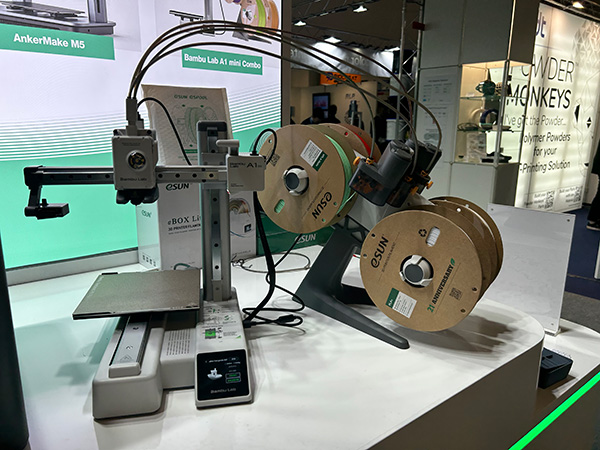 High speed printing remains a hot topic for 3D printing users. In this exhibition, eSUN showcased devices such as the Creality K1 MAX, Bambu Lab P1S, A1 Mini Combo, and conducted real-time printing using eSUN high speed printing filaments. Attendees can visually experience the increased printing speed and observe the actual printing effects.
High speed printing is expected to be one of the trends in the industry, and eSUN will continue to optimize the performance of our filaments for high speed printing, providing users with a better experience. Optimized products currently include PLA, PLA+, ABS, TPU, PETG, etc. Feel free to have a try!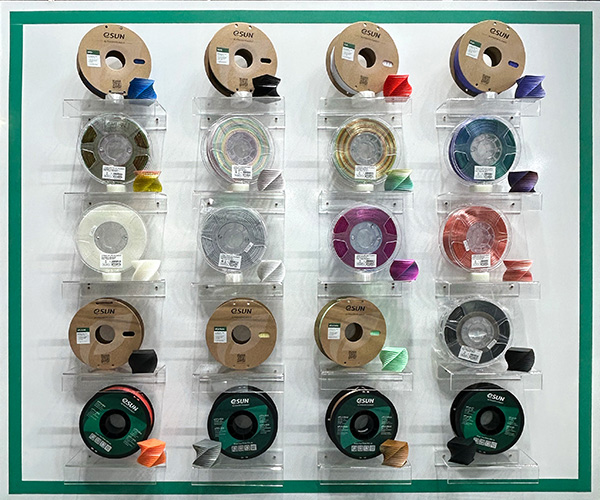 Popular Points 2: 3D Printing Application Zone
1.3D Printed Sunglasses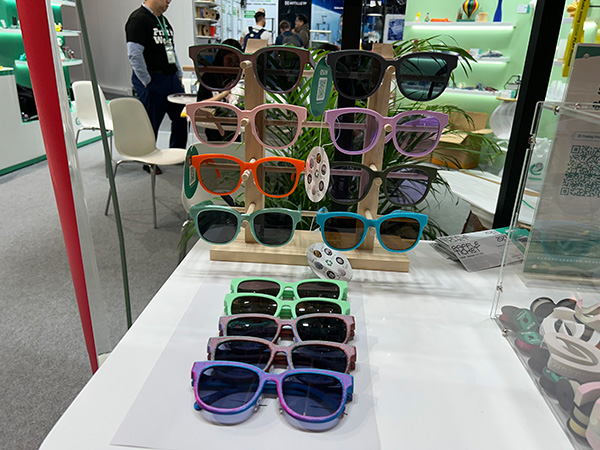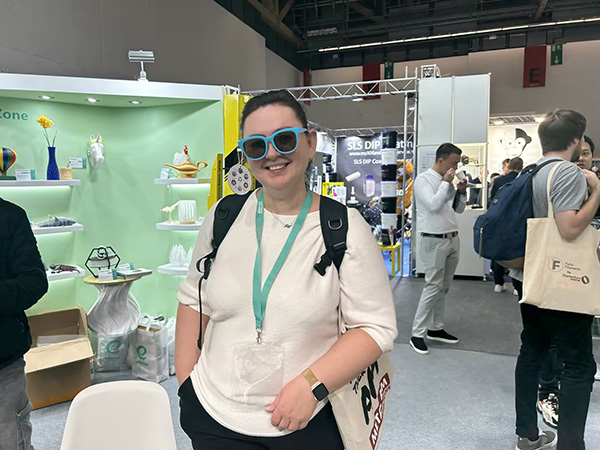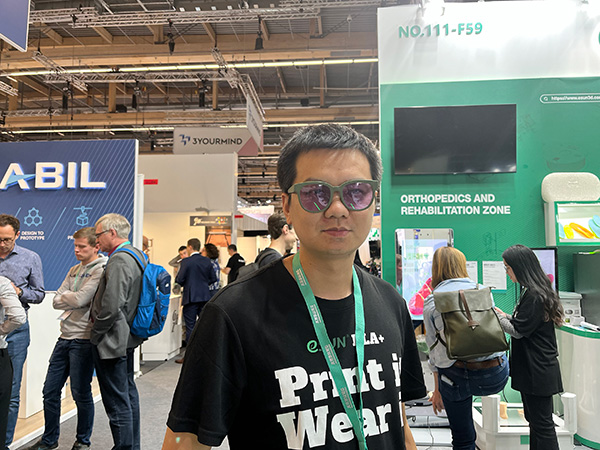 3D printing technology significantly enhances the imaginative space for creativity. At the exhibition, the 3D printed sunglasses showcased by eSUN received widespread admiration. By utilizing filaments with different appearances and incorporating personal creativity and imagination into the design, 3D printed glasses can become personalized and eye-catching fashion items!
Later, eSUN will release more stories about 3D-printed sunglasses. Stay tuned!
2.3D Printed Relief Artworks
3D Printed Relief Artworks combine technical precision with artistic beauty in creation, especially with the enhancement of multi-color printing technology, expanding the creative possibilities. In the future, eSUN will also launch eSUN Filaments Printing Pack: Multi-Color Pack, providing a rich and convenient filament support for everyone's creations!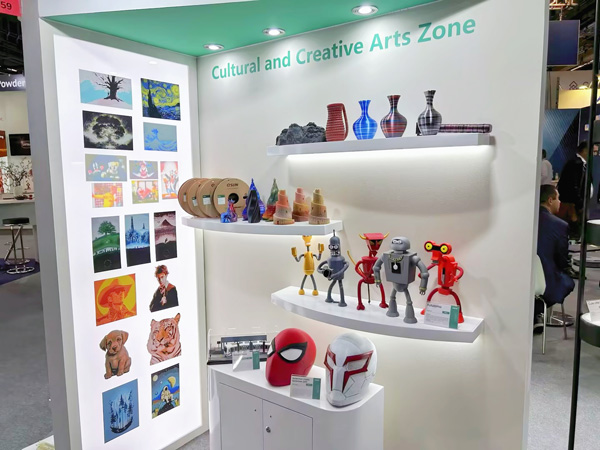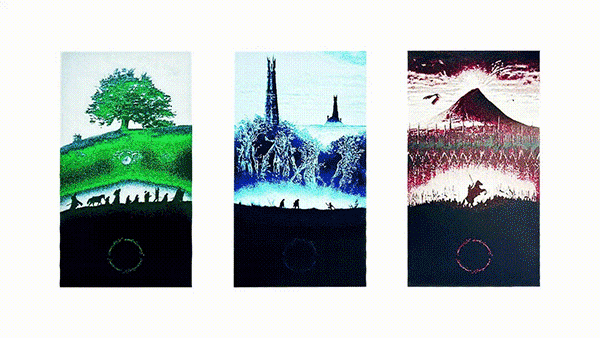 3.Application of 3D Printing in Daily Household Items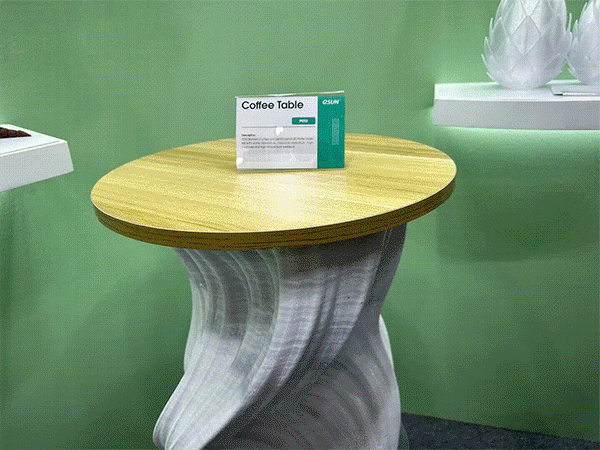 3D printed coffee tables, various lamps, vases, ornaments, and other daily household items also received great appreciation from the audience at the exhibition. 3D printing adds color and charm to life, and we welcome everyone to unleash their creativity. eSUN's diverse range of general and aesthetic filaments will provide a variety of choices for your creations.
4.Engineering Zone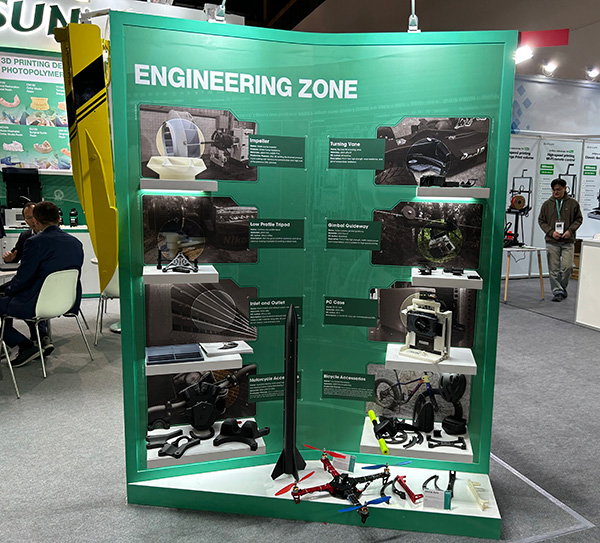 Against global energy saving, emission reduction, and rising energy costs, the advantages of 3D printing in industrial production are becoming increasingly apparent. More engineers are exploring specific applications of 3D printing in industrial production. In this exhibition, eSUN showcased some application cases in professional scenarios, such as printing tooling fixtures, bicycle and motorcycle components, and drone applications. The Nylon Carbon Fiber series continues to be a focal point of interest in engineering filaments.
Popular Points 3: Resin Zone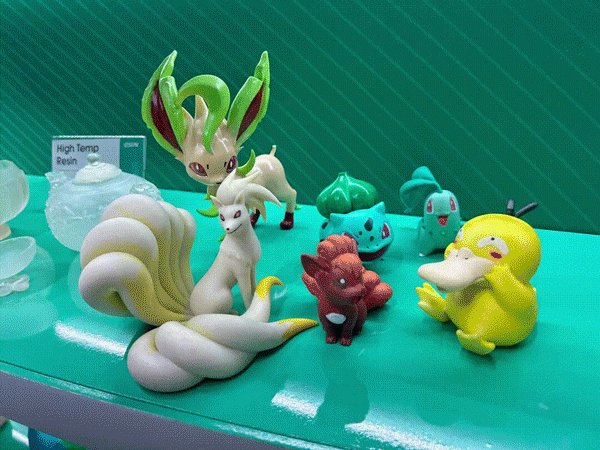 Resin Zone mainly includes dental resin, anime figurines, jewelry models, etc. Among them, dental resin attracted many professional users from dental clinics for inquiries. In addition, the exquisite jewelry models and cute, diverse anime figurines were highly favored by audience.
Popular Points 4: 3D Body Measuring Scanner
The iFit Mirror 3D Body Measuring Scanner showcased at this event has become one of the popular checkpoints at the eSUN booth. Through scanning tests, iFit Mirror 3D Body Measuring Scanner can instantly generate 720° 3D digital body model and scanning report, including 128 items of 3D physical sign data, 45 items of body circumference data, and 20 items of chest diagnostic data; it also shows the physical health diagnosis, recommended size, personalized outfit report, 4D body shape dynamic comparison, and 3D bone assessment.
Taking spinal curvature risk assessment as an example, with a realistic 3D human body model and AI-based big data on the human skeletal meridian system, the iFit Mirror 3D Body Measuring Scanner can assist in assessing the risk of spinal curvature. It evaluates posture issues such as forward neck, hunchback, lumbar spine curvature, and pelvic anterior tilt.
3D printing technology provides professional and efficient customized support for subsequent corrective treatments. In addition to insoles, eSUN also exhibited 3D printed dynamic scoliosis orthosis and 3D-printed Cervical vertebra comfort pillows, attracting many users to inquire.
In addition to the popular points mentioned above, many models at the eSUN booth also captivated numerous attendees who stopped to appreciate them. The 3D-printed parrot is vivid and colorful. The Life Aesthetics Zone provided more inspiration about 3D printing in daily life.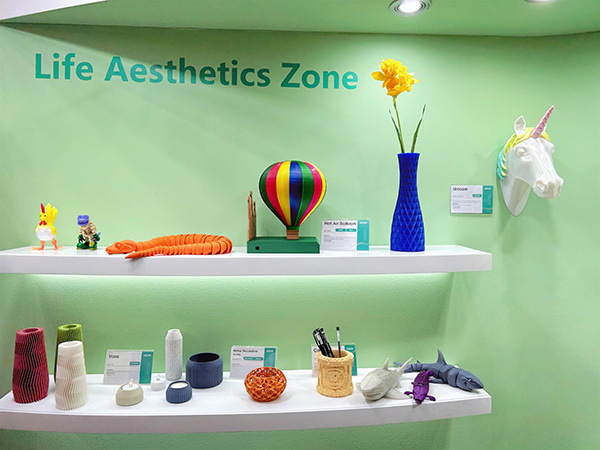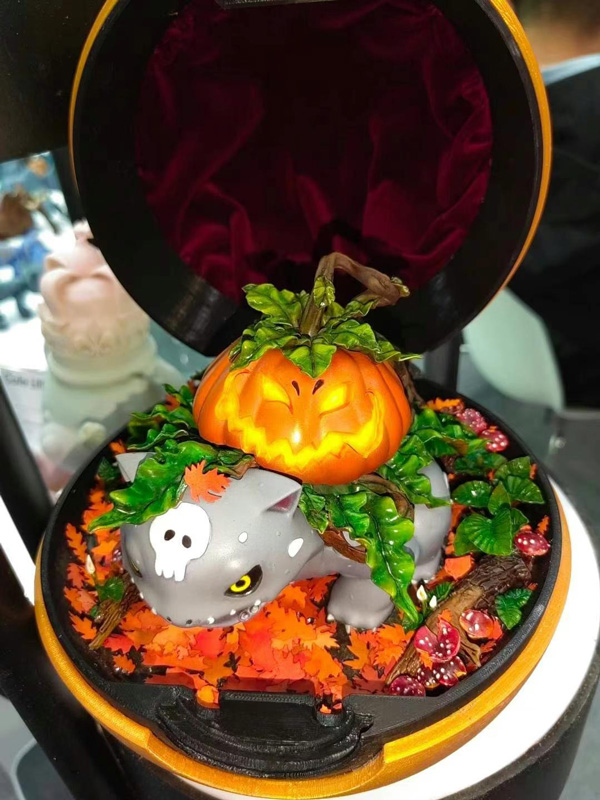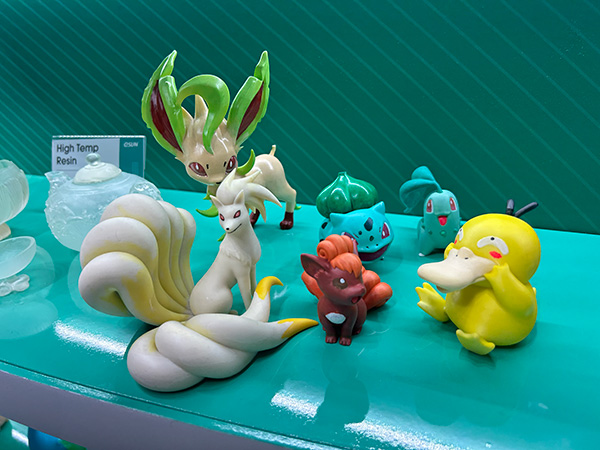 During the lucky draw session, eSUN presented a variety of gifts to our numerous international fans, including but not limited to 3D printing filaments, eSUN PLA custom T-shirts, 3D-printed sunglasses, and 3D printers. This session garnered significant participation and created a lively atmosphere at the venue!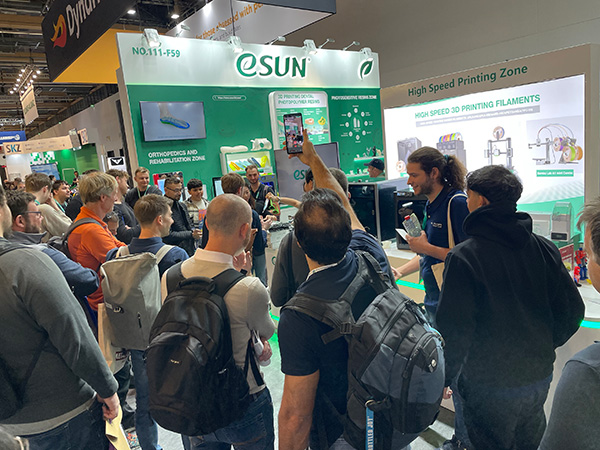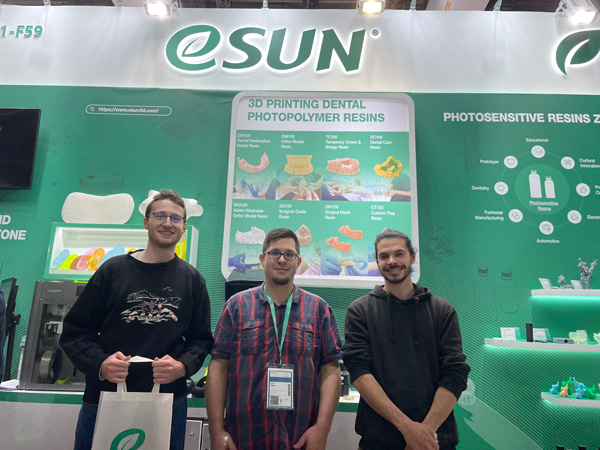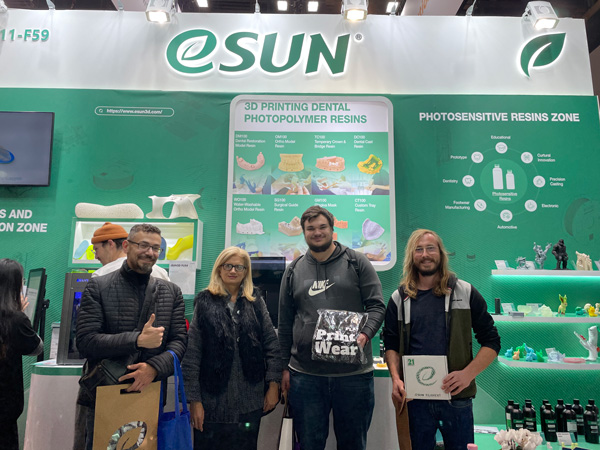 Touchingly, during this exhibition, eSUN also received an unexpected surprise from the fan @RDB Twentse — a massive Blastoise model!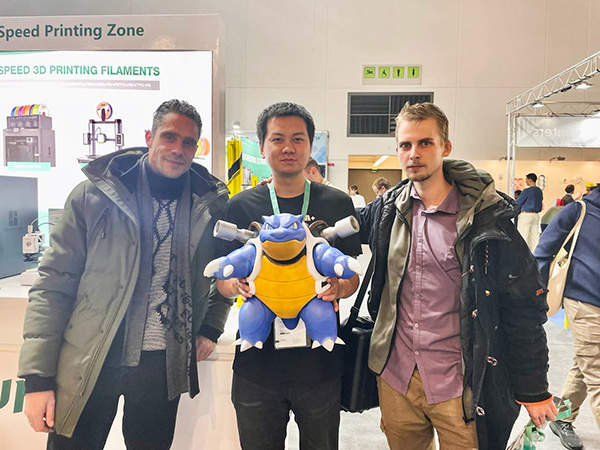 In this exhibition, eSUN was ignited by the enthusiasm of fans and garnered a lot of appreciation. Through communication and exchanges with numerous users and representatives from various fields, it's evident that 3D printing, as a technological revolution, is significantly and profoundly changing human production and lifestyle. As a participant in the global 3D printing industry, eSUN will keep pace with the trends, increase investment in product research and development, and provide professional and high-quality products and services to our users! If you have any needs or suggestions, feel free to contact us.
---
Previous:
Congratulations to eSUN on the successful hosting of the "Two Meetings" — the European Agent Conference and the Makers Gala in Frankfurt!