Application Case | 3D Printing Technology Provides More Possibilities for Sculpture Art Creation
Post time: 2023-08-30
The development of art goes hand in hand with technological advancement. In recent years, 3D printing technology has found widespread applications in art and culture, including artifact replication, digital sculpture, cultural and creative peripherals, and the production of animation figurines. Taking the sculpture industry as an example, the integration of 3D printing technology has enriched the means and materials for sculptural artistic creation. This enhances production efficiency, contributes to cost reduction and creative space expansion, and gives the sculpture industry more possibilities.
Today, we will combine specific application cases to provide a detailed introduction to eSUN and their partner, Shaanxi Yukun Environmental Art Engineering Co., Ltd. (hereinafter called " YU KUN")'s exploration of 3D printed sculpture.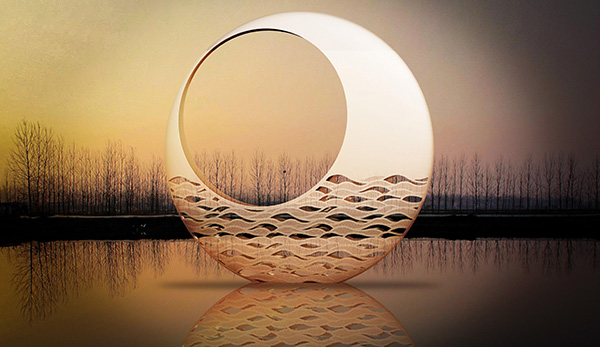 The sculpture is divided into circular engravure and relief. Circular engravure is three-dimensional and can be viewed from multiple angles, while it combines sculpture with painting and is generally viewable from only one or two sides. There is significant growth potential in the sculpture market in China, especially in modern cities and those with profound cultural heritage, where there is a high demand for urban landscape sculptures.
In accordance with practice, YU KUN has found that integrating 3D printing technology with sculpture craftsmanship saves approximately 50% of manufacturing time and significantly enhances the precision of sculptures. For instance, when creating sculptures with intricate designs or complex patterns, digital sculpture combined with 3D printing technology results in more accurate prints, making characters' expressions more vivid and significantly enhancing production efficiency.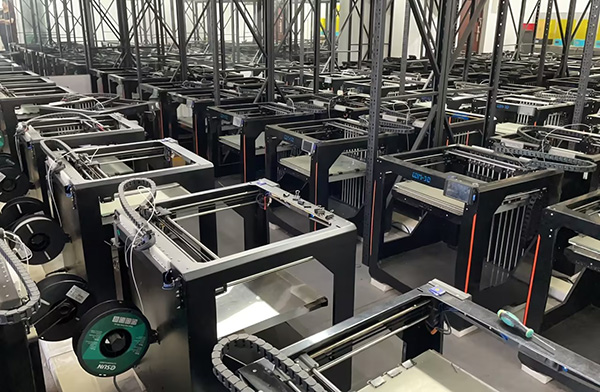 Furthermore, 3D printing can effectively manage material usage and reduce pollution and wastage while ensuring an efficient and environmentally friendly production process.
Currently, YU KUN primarily utilizes FDM and LCD technologies for sculpture production. For example, PLA+ filament is used to print large sculpture models or the body parts of small sculpture models. At the same time, resin is employed for crucial model components that require high printing precision.
Among these materials, PLA+ is widely employed. For indoor sculptures, directly using PLA+ filament for printing and completing the surface treatment of the model can fulfill the requirements. Outdoor sculptures are primarily metal sculptures, such as bronze and aluminum sculptures. These typically use 3D printing for hollow printing to produce preliminary models, replacing the traditional wax molds and casting with molten metal. The printing thickness varies for sculptures of different metals; aluminum sculptures typically have a wall thickness of about 5mm, while copper sculptures have a wall thickness of approximately 3mm.
Urban sculptures generally have larger dimensions. The PLA+ used for such large models needs to be tough, non-brittle, high-strength, and no warping while maintaining a smooth surface. Feedback indicates that eSUN's PLA+ meets all these requirements. Additionally, eSUN's PLA+ performance is excellent in fast printing, contributing to Increased production efficiency.
Below are some sculptures completed with the assistance of 3D printing. All produced by YU KUN, with materials from eSUN PLA+ used in FDM printing:
1."Immortal at the Magpie Bridge" in Kunming Lake Chinese valentine's day Theme Park, Xi'an: 22 meters long and 15 meters tall, with character heights of 5-7 meters, completed with 3D printing assistance.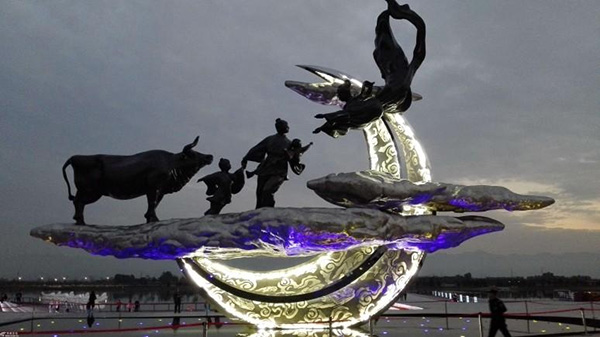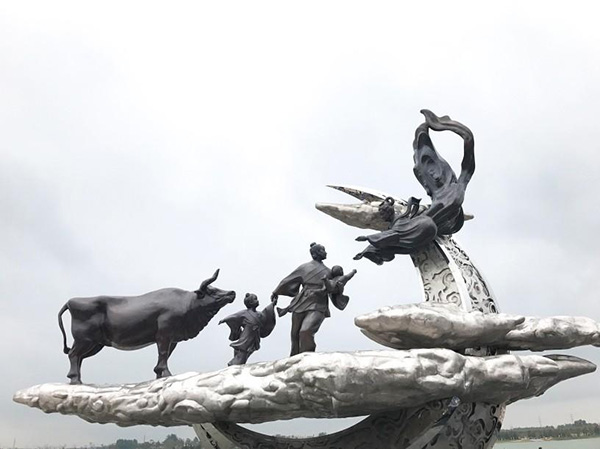 2."Iron Horse Station" on G227 Airport Highway, Zhangye: 24 meters long and 10 meters tall, completed with 3D printing assistance.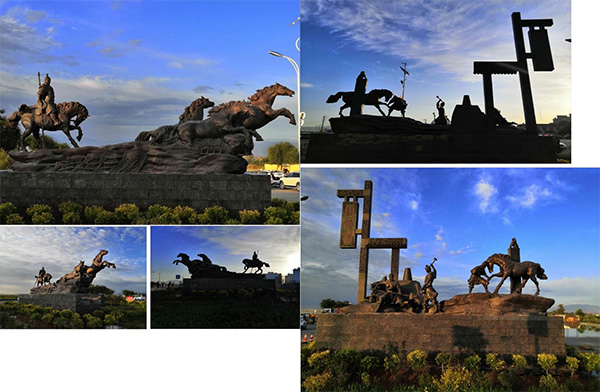 3."Guardian" at the Maternal and Child Health Hospital in Ganzhou, Zhangye: 6 meters tall, completed with 3D printing assistance.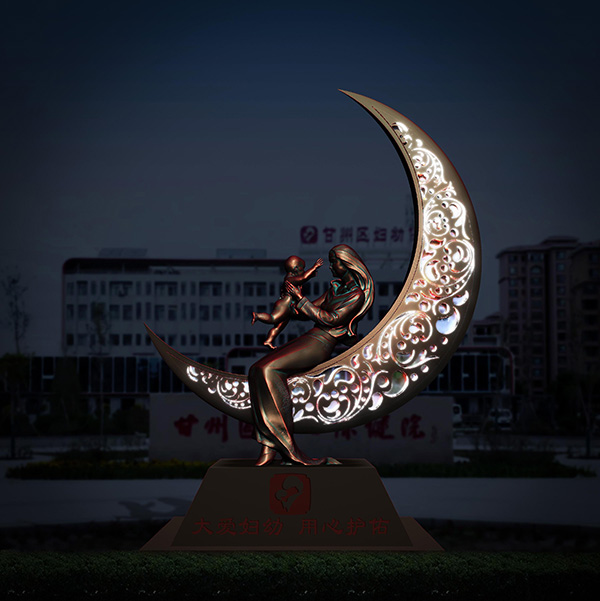 4."Young City" at Station Square in Shihezi: 25 meters long, 9 meters wide, and 19.5 meters tall, completed with 3D printing assistance.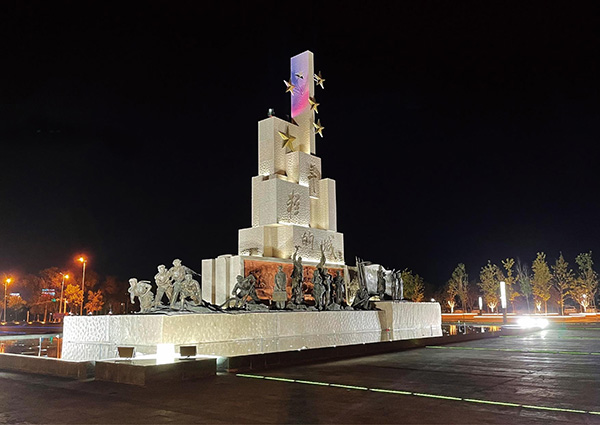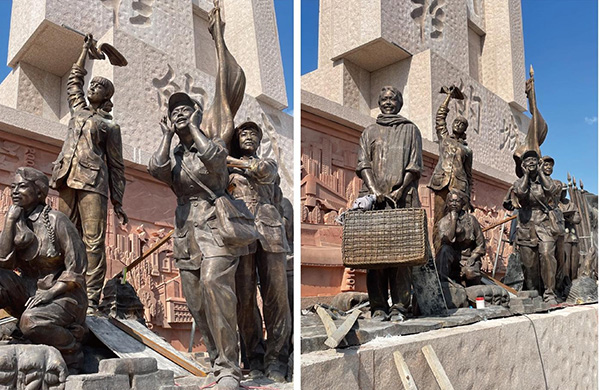 Of course, in addition to the above landscape sculptures, 3D printing technology is also applied in cultural center and museum exhibitions, interior decoration, artifact replication, etc.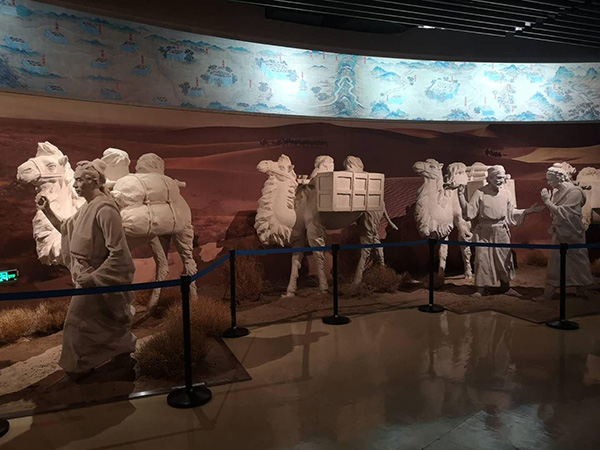 With the optimization of material performance and the expansion of product categories, the future application of 3D printing technology in the sculpture and cultural industry will develop further. Material technology simplifies creation, and eSUN is committed to continuously enhancing material comprehensive performance based on user needs, thereby driving innovative applications of 3D printing technology in various domains.
About Shaanxi Yukun Environmental Art Engineering Co., Ltd.:
YU KUN is a comprehensive institution specializing in sculpture design, production, and installation. It is also the first company in China to integrate digital sculpture and 3D printing technology into traditional sculpture craftsmanship, achieving a perfect combination of 3D printing technology and sculpture art.
Acknowledgments: We thank Shaanxi Yukun Environmental Art Engineering Co., Ltd. for providing content support for this article.
---